Warning:
Mega-updates this Month, please be patient, Site is loading...

July 2K6

x x x

Thursday 27/07/2006
Too...hot...to...write...




Since you made it here anyway, let me update you on the News that might put even more Sweat on your Forehead...well, there's this Dawg, who thinks he needs a new Grill...and Rocky Balboa needs a Pension...and we all need the History of the Earth on a Roll of Toilettpaper...




And even though I promised not to post any more Zidane-related things, here's one last version of his Fair-Play-Demonstration at the World Cup!




This last one is dedicated to Sweet Lord Jesus, good luck with everything and succes :) !

x x x
Thursday 20/07/2006
Today is the World Jump Day, if everything works out the way as predicted, we might save the World with one Jump :) !




Hans Peter Niesward from the Department of Gravitationsphysik at the ISA in Munich, says we can stop global warming in one fell swoop — or, more accurately, in one big jump.

The slightly disheveled professor states his case on WorldJumpDay.org, an Internet site created to recruit 600,000,000 people to jump simultaneously on July 20 at 11:39:13 GMT in an effort to shift Earth's position.

Niesward claims that on this day "Earth occupies one of the most fragile positions in its orbits for the last 100 years." According to the site, the shift in orbit will "stop global warming, extend daytime hours and create a more homogeneous climate."

Once you're done jumping, grease up your Hands and prepare for the big Masturbate-a-thon that will leave behind a lot of people with hairy Palms and decreasing Eyesight!




x x x
Wednesday 19/07/2006
One Heatwave after another is rolling over Europe, finally Global Warming ® is a fact, and I was already thinking about getting a SUV myself to help speed up the process, it's been too cold for too long in this Country :) !




Speaking about Cars...if you really want to know what they're all about, you better go and ask Dr.Z!

Other things you've missed while being out there on the Beach are Firefox Day and Non-Photography-Day, shame on you!




x x x
Saturday 15/07/2006
Zidane and no End...I promise that this is the last Post relating to his by now infamous Headbutt :) !




And last but not least, we get to see what really happened, he saved his Life!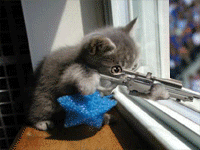 x x x
Thursday 13/07/2006
Isn't it all bad enough already, do People really have to make fun of the poor Guy?!



AmsterS@m says 'Yes' !

x x x
Wednesday 12/07/2006
Doomsday is here, People are dropping dead left and right in Amsterdam, no not some Terrorist-Asshole bombing us, it's the good old Legionnaire's Disease that will finish us all off!




x x x
Monday 10/07/2006
My Mother is a WHAT..?!?!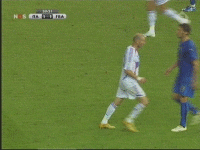 Germany made the 3rd Position and had one last giant Party to celebrate the unexpected Success of the Team...




And Italy beat the old Men of France, who seemed to be playing a match of Rugby instead...




x x x
Saturday 08/07/2006
The german Fans were close to Beatles-Style Masshysteria when the Team arrived in Stuttgart yesterday, to prepare for the Match against Portugal tonight at 21:00 CET, the last Chance for another public Exercise of the new Easyness and Happiness that has come over this once grumpy, grey Country...




x x x
Friday 07/07/2006
Thank God it's Friday!

Tomorrow Germany and Portugal will Duke out who'll score the 3rd and 4th Position in the World Cup, Sunday Italy and France will fight for the actual Cup, so let's all sing along:

'Allez les Vieux, Allez les Vieux'




Meanwhile, the Germans are trying to convince Jürgen Klinsmann to keep coaching their Team!

But of course we have to get used to the Idea that the Cup will be over in just two Days and we'll have to find some new Toy to play with...Tennis anybody?




Or how about a nice Match of American Football?




x x x
Thursday 06/07/2006
Portugal got sent Home by the french Team, not very deserved, 'Les old Folks' were lucky and got a Penalty that was turned into the only Goal by Zidane...

Sunday they will meet Italy, another very lucky Team, in the Final Match, I sure hope the Heat won't make their Pacemakers combust spontaneously :) !




x x x
Wednesday 05/07/2006
The Unthinkable has happened, Italy scored twice(!) in the last Minute(!) of the Extra-Time, usually a german Secret Weapon, and has left the Host Country of the Cup in Shock&Awe...




x x x
Tuesday 04/07/2006
The Gods must be crazy (maybe they're Women?) ! It's so hot in the good old Netherlands that the Traintracks are melting!




Tonight Germany is playing against Italy in the Semi-Finals of the World Cup, it seems that the Italians are so scared of the Germans that they tried everything they could to have one of their best Players suspended...Pussies!

x x x