Saturday 30/04/2012




Queensday Here We Come!
Unedited shots of 2 girls on a bike in Amsterdam. Taken with my Sony HX1. It's Queensday, yay!!! And the sun is shining, yay!!! God loves the Queen and made the rain go away, yay!!! I'm going to paint myself orange now, load the beer'ish content of my fridge into a bag and just like the 2 girls in these pictures, go downtown with a big smile to celebrate the party of the year with 16 million other people painted orange, it's gonna be funfunfun, hope to bump into you somewhere in that madness...enjoy :)))







Sunday 29/04/2012




Over The Edge
Unedited shots of bikers in Amsterdam, reflected in a puddle. Taken with my Sony HX1. No editing, no magic tricks, no Photoshop. Since the beginning of the year I, together with the rest of the country, have been looking forward to Queensday, the biggest party in the world, usually we have nice weather on that very special day, but this year it looks as if the ongoing storm and rain will force us all to stay home instead of going out there as a 16 million people strong mob, dressed in Orange, drinking, smoking and doing whatever is needed to take things just that tiny bit too far, over the edge, into unknown territory, while acting like children who have the whole house to themselves when the parents are away for the weekend. And all that is needed to bring this awesome event and experience to a grinding halt is some stoopid rain! The really sad part about this is that we're already celebrating the birthday of the deceased mum of our current Queen, Juliana, to avoid weather issues, because she (Juliana) was born on April 30, while the lady who is in charge these days, Beatrix, saw the light of this world in January, a predictably unpleasant period of the year, but it seems that this time even such tricks won't help, sigh :)






Over The Edge Movie
I've made a movie of the people in this puddle as well, watch it on my YouTube channel, thanks :)











Saturday 28/04/2012




Here Comes The Queen!
Unedited shots of people celebrating Queensday in Amsterdam last year. Taken with my Sony HX1. Next Monday, April the 30st, we are celebrating Queensday again, our yearly anything-goes, all-out, biggest-party-in-the-world event, a massive public display of our worshiping of the Dutch Royal Family alcohol, drugs and half-naked chicks skimpily dressed in orange things. If you have never experienced a Queensday in Amsterdam, you can't claim to have lived a full live, this is something you need to see to believe! Unfortunately, this year it looks like it might be a cold, windy and rainy QD, something I can't even begin to imagine, everybody has been looking forward to this Mega-party from Christmas on, and it would suck big time if we all would have to stay home and actually think about the Queen and her family, instead of stumbling through the streets of the best city in the world totally intoxicated, looking for an orange lady to make drunken love to, lol. Here are my movies from the Queensday celebrations of the last years, check them out on my YouTube channel, thank you: QD Movies :)







Friday 27/04/2012




Thank God It's Friday!
Random shots of a Hen party group in Amsterdam. Taken with my HTC Desire using the Camera360 Android app. It's Friday, yay!!! For the typical Hen party participant in Amsterdam it doesn't matter what day of the week it is, for them every day is a special day, and they spend their time maximizing their fun by experiencing all the sin and wickedness the best city in the world has to offer to those who are ready, willing and able to delve into the dark depths of sticky pleasures that can be had in good old Amsterdam...if you don't loose your wallet in that whirlwind of a wild adventure that is, no cash, no service, hehehe :)







Thursday 26/04/2012




Cry For Help
Slightly edited shots of a girl in Amsterdam. Taken with my Sony HX1. Sometimes when I try to secretly shoot somebody, they notice me waving my camera in their general direction and they might panic (hey, having a wicked Reflectah pointing his cam at you can be a somewhat disturbing experience!), and some even go as far as calling the cops, like the lady in these pictures. Once she realized that she might end up in a puddle, being wickedly reflected on, she grabbed her mobile and started dialing 911 112, hysterically screaming at the emergency services people to come and rescue her, crying, sobbing and ululating all over the place. Of course by the time her fingers hit the '1' on the dialpad the first time, I had already hopped on my trusty bicycle and was rapidly riding into the sunset, only to search for less attentive victims, or at least a fool without a mobile phone, lol :D







Wednesday 25/04/2012




Quick Snap Reflection
Random puddle reflections shot in Amsterdam. Taken with my HTC Desire using the Camera360 Android app. No editing or magic tricks besides whatever that app did to the picture, no Photoshop. I've bitched and complained about this already a lot in the last 3 months, I am currently working 5 instead of my usual 4 days, and this is taking away all the time I usually reserve for shooting pictures and movies, so I have to improvise and take any chance I get to be able to create some photos on my way to the office, or the supermarket, or wherever it is I'm going. This is no fun, and the quality and quantity of my creative output is diminishing on a daily basis, something I don't appreciate and that I intend to reverse as soon as possible. Until then, these quick snap shots will have to do, I hope you're not too upset that you're having to look at these not-so-wicked reflections, lol :D







Tuesday 24/04/2012




Stop In The Name Of Love
Random Lovey-Dovey shot in Amsterdam. Taken with my HTC Desire using the Camera360 Android app. Even though some people confuse Love with sex or simple affection, everybody knows deep down inside that it is what really matters and makes this planet go round. All our actions are geared towards attracting attention and eventually positive feelings, possibly resulting in love, it's what it's all about, our striving for better jobs, bigger houses, cars, boobs and penises is simply a race to get as many people as possible to like and love us, weird but true! So the next time you encounter somebody who seems to behave in less than desirable ways towards their next men/women, keep in mind, they're doing it all for love, or rather out of spite because of their inability to experience sincere, soft and soothing feelings through interaction with their fellow humans...instead of cursing them, give them a hug (if you dare, lol :))), tell them something nice, show them that love is all around and will be theirs to enjoy and experience, if only they let it, hahaha. I know, I'm a tree-hugging hippie romantic, but that's just how I roll, lol :D







Monday 23/04/2012




Monday Double Vision
Unedited shots of bikers reflected in a puddle in Amsterdam. Taken with my Sony HX1. No editing, no magic tricks, no Photoshop. It's Monday again, and I've been working so much lately, that I've started seeing things double! That can't be a good sign...everywhere I look, I see double the people, double the bikes and double the puddles! Don't let this happen to you, don't work too much, take regular breaks, enjoy your time off, rest and relax in your weekends, don't be like me, walking around with a horrified stare, trying to understand which part of the double-vision is reality and which one is the reflection, stumbling through the streets all confused and with teary eyes, unable to get a grip on the situation at hand! If you see a seemingly lost wicked Reflectah wandering the streets of the best city in the world aimlessly, that would be me, please give me a push towards the nearest bar for a relaxing drink and a well-deserved time out from the grind, thank you. P.s. If you see 2 bikers in these pictures, you should arrange an appointment with your doctor, because you've been working too much too, hahaha ;-P






Double Vision Movie
I've made a movie of this wicked puddle too, check it out on my YouTube channel, thanks :)











Sunday 22/04/2012




The Time Out
Unedited shots of the lovely Miss E in Amsterdam yesterday. Taken with my Sony HX1. Yesterday I went to the city center to do some serious shopping, when I was done I was packed like a camel with shoeboxes and bags, so the natural thing to do next was to have my good friend, the lovely Miss E, call me and meet up for a relaxing coffee to celebrate my successful purchases. We had just sat down when the sun decided to honor us with a visit, and we spend some quality time hanging out in the warm glow of a perfect Spring day, gossiping about the tourists around us, discussing our plans for the time to come and other mindless chatter that helped us to ease away another lovely day in the best city in the world with lightness in our hearts and greatness on our minds...thank you Miss E, that was exactly what I needed :)







Saturday 21/04/2012




The Downtown Crowd
Unedited shots of people in Amsterdam reflected in a puddle. Taken with my Sony HX1. No editing, no magic tricks, no Photoshop. In the last week I've finally managed to take some wicked reflection pictures again, for weeks and weeks I did not find the time, energy and perfect puddle conditions to do so, and it did not feel good having to pass by any wet spot I've encountered without shooting it, due to time-restrictions and a very stressful work-situation. Luckily there was the Easter weekend, that gave me an extra day to get things done, and I am still enjoying the benefits of those valuable, additional 24 hours of time at my disposition. Just another couple of weeks and I should be able to go back to my 4 day week at the office, that will allow me to dedicate 3 days each week to my pictures and movies, and I am so looking forward to focusing on being the wicked Reflectah again, instead of having to waste all my waking hours to make some faceless CEO rich who resides in some city far away, it just doesn't seem right...earn your own fortune faceless CEO, and let me be, hahaha :D






Downtown Crowd Movie
I've made a movie of this wicked puddle too, watch it on my YouTube channel, thanks :)











Friday 20/04/2012




Thank God It's Friday!
Advertising posters in Amsterdam. Taken with my HTC Desire using the Camera360 Android app. It's Friday, the holy day of the working week, just a few more hours and we're free for a couple of days to finally do the things we like, yay! Soon I will hopefully get my regular free Friday back, a pleasure and luxury that I've had to miss for almost 3 months now, and that I know I am going to appreciate and love even so much more because I wasn't able to do enjoy it for such a long time...and yes, I know I'm a Girlieman, most of you work 5 days a week all your life and never cry about it on the Interwebs like I do, but yeah, that's just me, hehehe. I will cherish and treasure every minute of every one of those special days as if they were made out of gold, which in a way they are, since freely available spare time is such a luxury these days that only a chosen few of us can afford them, so eat your heart our Warren Buffet, hahaha :D







Thursday 19/04/2012




Babes On Bikes
Slightly edited shots of girls on their bikes in Amsterdam. Taken with my Sony HX1. Just what is it about bikes that they make girls look even prettier and nicer than they already do? Maybe it's the faint hint at their early years when they liked riding horses, maybe it's the sportiness of it, or simply the fact that, well, it looks good, hehe. Whatever it is, I can never get enough of shooting girls off on their bikes, and luckily in Amsterdam there is no shortage of that awesome combination, lol. Have a great day, almost weekend :)







Wednesday 18/04/2012




Sex Still Sells
A couple in a bath-tub inside a shop in Amsterdam. Taken with my Sony HX1. Last weekend I walked into a shop and was welcomed by a Bikini Girl and a couple in a bath-tub, a refreshing sight for my sore eyes after floating through the Kalverstraat with trillions of other shoppers, but of course it wasn't an undivided pleasure, it was a bit of an awkward situation to see these poor kids (well, the girls, not the guy, hehe :) being stared at and nearly deafened by the sound of the camera shutters going off all around her...oh, wait, that was me, sorry, my bad, lol. Just to make it clear, I do not condone the (ab)use of candidly clad young people to further the despicable goals of modern Capitalism, but seemingly men and women (yes, women too, there was a near naked dude in that tub!) are dogs, and yes, appealing to our lowest instincts somehow makes us wish to purchase things, that's just the way Mother Nature made us, so clearly somebody had something in mind when we were created as the brainless, schlong-, and punani-driven and dog'ish dudes and dudettes that we are, hahaha :D







Tuesday 17/04/2012




Puddle People Privacy
Unedited shots of people reflected in a puddle in Amsterdam. Taken with my Sony HX1. No editing, no magic tricks, no Photoshop. Privacy is a valuable commodity these days, even though most of us don't seem to pay much attention or thought to the information we share about ourselves online (Facebook!!!), but I personally am very aware of the issues associated with this topic, so I have started a 'Puddle People Privacy Protection Program', it's called 'P5' and it allows people who were unfortunate enough to walk into my wicked puddle shots without knowing and wanting to do so, to submit an online form requesting their faces to be made unrecognizable, not unlike the similar service for Google Streetview. My team of highly skilled Helper-Monkeys then throws a digital blanket over the images before publishing them on the Interwebs, resulting in images like those I've posted today, clearly a win-win situation, art for the masses, privacy for the poor puddle people :D






Puddle People Privacy Movie
I've made a movie of the people in this puddle as well, watch it on my YouTube channel, thanks :)











Monday 16/04/2012




Sex Still Sells
Bikini Girl in a shop in Amsterdam. Taken with my Sony HX1. Last weekend I walked into a shop and was welcomed by a girl in a bikini, a refreshing sight for my sore eyes after floating through the Kalverstraat with trillions of other shoppers, but of course it wasn't an undivided pleasure, it was a bit of an awkward situation to see this poor lady being stared at and nearly deafened by the sound of the camera shutters going off all around her...oh, wait, that was me, sorry, my bad, lol. Just to make it clear, I do not condone the (ab)use of candidly clad young girls to further the despicable goals of modern Capitalism, but seemingly men are dogs, and yes, appealing to our lowest instincts somehow makes us wish to purchase things, that's just the way Mother Nature made us, so clearly somebody had something in mind when we were created as the brainless, schlong-driven and dog'ish dudes that we are, hahaha. Have a good start into the new week :)







Sunday 15/04/2012




Time Is Money
Unedited shots of people in Amsterdam yesterday, reflected in a puddle. Taken with my Sony HX1. No editing, no magic tricks, no Photoshop. Since I am also working Fridays, my usual day off, for almost 3 months now, I am also making extra money, which in itself is nice, but I've realized that I don't get a chance to spend that hard-earned cash, because the little free time I have is filled with desperate attempts to get all those things sorted out that need sorting out, like doing the groceries and laundry, cleaning the house, shooting wicked puddle pictures, flirting with the pretty girls of the best city in the world, whispering soothing words into the ears of my bike when a thunderstorm passes by in the sky, and manymanymany other urgent issues that need to be prioritized, addressed and resolved, phew! What I'm trying to say is, my current situation is proof that Time is Money, but Money is not Time, lol :D






Time Is Money Movie
I've made a movie of the people in this puddle as well, watch it on my YouTube channel, thanks :)











Saturday 14/04/2012




I Love Dutch Girls
Dutch girls on their Speed-bikes in Amsterdam. Taken with my HTC Desire using the Camera360 Android app. Dutch girls, you gotta love 'em! They are superfit, supercute and supersexy, and they can outbike you at any given time! Yes, you! Which is a good thing, because when they pass you by with a soft 'Swooooosh' of compressed air forced out of their path, you get to see their usually well-defined and awesome-looking backsides, not always an undivided pleasure, as it will make you feel a bit like a creep for staring at the behinds of those bike-vixens, but on the other hand, it will make you much fitter, as you will feel obliged to stay close to them, to prolongue the pleasure of this special view, so it's a win-win situation...at least for the guys, lol :D






Dutch Girls Movie
I've made a movie of the awesome bike ladies too, watch it on my YouTube channel, thanks :)











Friday 13/04/2012




Funky Friday Double Vision
Unedited shots people reflected in a puddle in Amsterdam. Taken with my Sony HX1. No editing, no magic tricks, no Photoshop. It's Friday, and it's been a busy week as always, so tonight I should go and get so drunk that everything looks like it does in these pictures, lol. Let's see how this day goes, I wish for all of us that it will be relaxed, easy-going, without too much work, and that it will smoothly transition into a wonderful weekend with lots of sunshine and happiness...and if it doesn't, we can blame it on the fact that today is Friday the 13th, aaarrrrgggghhhh :)


Thank God it's Friday!

Image 'borrowed' from http://thechive.com!









Thursday 12/04/2012




Amsterdam Puddle Parking
Slightly edited shots of a girl parking her bike in Amsterdam reflected in a puddle. Taken with my Sony HX1. No editing besides some added contrast and saturation, no magic tricks, no Photoshop. Owning a bike in Amsterdam is like carrying a sign with you that says 'Steal my Bike!', so we have armed our beloved steel horses with chains, locks and self-activating flamethrowers to keep those darn Junkies from taking off with them in the dark of the night, not always successfully, as anybody who lives in the best city in the world will be able to confirm. It's just part of the natural life-cycle of a bike, you buy it, a Junkie steals it and you buy it back for 40 euros on the street from that same scum-bag a few days later, only to re-insert it into circulation, ready to be stolen again...unless you use the right kind of lock, like this young lady here, and always remember to lock your bike to something else, or they'll carry it into the next alley and gnaw through the chains :D







Wednesday 11/04/2012




We Are Family
A family reflected in a puddle in Amsterdam. Taken with my Sony HX1. No editing, no magic tricks, no Photoshop. A family can be a blessing and a curse, depending on just how cuckoo your family members are, but I think in general it's safe to say that most of us have felt a certain degree of embarassment for the behavior or actions of one or another part of their, however remotely related, natural peer-group. Still, there is nobody on the planet who is so closely connected, and able and willing, to assist you with your needs and troubles, and to share your good times and successes in life as your family, so give them a hug, kiss them on their forehead and tell them how much you appreciate them :)







Tuesday 10/04/2012




Find The Biker
Random shots of people at the Gay Parade in Amsterdam last year. Taken with my Sony HX1. Sometimes we are so distracted by something, that we don't notice other things going on around us, these distractions can be brought on by pretty much anything that tickles our senses, but it's mostly boobs, at least when you're a man. Somewhere in this series of pictures, there's a biker hidden, see if you can find her...actually, this won't work too well, as the biker seems to be a typical Amsterdam Bike-MILF, and easily draws the eye to her well-shaped, pedal-steeled legs and hips...but luckily she does not distract the viewers attention enough to overlook the boobs prominently parading in those same shots, hehehe. Sorry for saying boobs all the time, I think Spring is getting to me, lol ;-P







Monday 09/04/2012




Sweet Lord Jesus
A church reflected in a puddle in Amsterdam. Taken with my Sony HX1. No editing, no magic tricks, no Photoshop. I hope that you've had a wonderful, relaxing Easter weekend, spent with lots of easy-goingness and plenty of good food, I know I did. Now it's Monday again, but instead of rushing to work, most of us are off for another beautiful day of doing nothing at all, a special delight and pleasure that we all are able to appreciate and cherish I think...and now you know what my week usually feels like! I am usually off every Friday (not since the beginning of February, but soon again, lucky me :) and my life is centered and revolves around the fact that I can say at any given time 'Almost weekend!' and it's even true, lol. I can only recommend working 4 or less days, and not the usual 5 that the slavemasters want you to put into the grind...have a look at your contract, talk to your HR department, give it a try, imagine having a long weekend like this one every week, your life would be much better, mine for sure is, and I'm reallyreally longing for and looking forward to the very near future when I can enjoy that luxury and leisure again :)







Sunday 08/04/2012




Pass The Dutchie On The Left Hand Side!
The Pot delivery truck in Amsterdam. Taken with my HTC Desire using the Camera360 Android app. As you might know, there are still some Coffeeshops left in the best city in the world, and I don't mean those that only serve actual coffee. Of course they need to replenish their stash of weed and hash every few hours, to keep up with the enormous consumption rate our visitors from foreign countries develop once they hit the ground at the Schiphol airport, so at any given time you can see these big trucks full of Pot, Grass, Reefer rolling through Amsterdam, steering from one drug-house to the next, leaving big stacks of fresh drugs in their wake, making everybody high and happy, creating a lovely, smokey, peaceful atmosphere all over the place, hahaha :D






Random Digital Fun
Do It! Do It Now! Do It :D







Saturday 07/04/2012




Happy Easter
Blooming tree in Amsterdam. Taken with my HTC Desire using the Camera360 Android app. It's the Easter Weekend and I hope that you are spending your time hiding or searching eggs, eating too much, killing chocolate bunnies left and right, stuffing your face with food in between, enjoying the long weekend off from all the troubles of the world and in general having a major time. I am doing none of that, I'm still busy trying to wake my body up, but it doesn't look like my eyes will fully open today, I'm just too exhausted and tired from the last months and all the hard work I had to do. Yesterday I had such a stoopid bad Friday, in the morning I spilled coffee over my keyboard and paper work, on the way to the office (yes, I am still working on Fridays, my usual day off, and even on this Good Friday I have to slave away, sigh) a bird pooped on my head and clothes, and after a crap day at work, the ATM ate my bank card on the way home, ensuring an overall not so happy day for me. Luckily now I'm off for 3 days and can finally enjoy a 'regular' weekend like I used to have them, and hopefully will have again very soon, wish me luck, hehehe. Happy Easter, enjoy your weekend!







Friday 06/04/2012




Bad Friday
Canal reflection in Amsterdam. Taken with my HTC Desire using the Camera360 Android app. No editing or magic tricks besides whatever that app did to the picture, no Photoshop. It's Friday, so I decided to spoil you with a wicked reflection of Amsterdam, still the best city in the world, hoping that some candid eye candy will ease the pain of having to get up and go to work once more before the beautiful, lovely, relaxing, extra-long Easter weekend starts...if you are as unlucky as I am, that is. Most people are off for 4 or more days, enjoying some well-deserved relaxation, but no rest for the wicked Reflectah, I have to rush to the office and work, so for me it's not a good, it's a bad Friday...sorry Jesus, lol. If your weekend has started already, enjoy it for me too, will you, please?!? Thank you :)


Thank God it's Friday!

Image 'borrowed' from http://www.jakarta100bars.com!









Thursday 05/04/2012




Mobile Communication
A Dutch girl on her bike in Amsterdam. Taken with my Sony HX1. Dutch girls are not just really fast and good looking on their bikes, they're also very practical about making the most out of their multi-tasking skills, they can smoke a cigarette, eat a healthy snack and make a phonecall, and all this while steering their steel horses through the narrow, crowded streets of the best city in the world. This alone would be reason enough to adore and worship them, but they have so many other qualities safely stashed away in their solid, sexy, happy healthy Farmers-daughter'ish frames that I would need another Interwebs to write them all up :)







Wednesday 04/04/2012




Curiosity Killed The Cat
Selfreflection on the window of a car in Amsterdam. Taken with my HTC Desire using the Camera360 Android app. No editing or magic tricks besides whatever that app did to the picture, no Photoshop. Sometimes, or rather very often, when I shoot a (self) reflection picture, those around me have a hard time managing their curiousity, they shuffle their feet, they pretend they're doing something meaningful or looking at something completely different, but in reality all they want to do is to come over to me and check out exactly what I am doing. This canny curiousity can not just have a negative effect on you if you are a cat, but you might end up in the picture with me, your nosiness on display for all the world to see, lol :)







Tuesday 03/04/2012




Rebels With A Cause
'No Parking' sign in Amsterdam. Taken with my HTC Desire using the Camera360 Android app. Amsterdam has become the forbidden city, once we were free and proud, able to do pretty much anything our hearts desired, but in the last 7-8 years our beloved hometown has been flooded with new signs and rules, regulating our freedom and our daily lives, going as far as telling us that we can't stand up while having a drink outside a bar, and many other childish, ridiculous ideas, that we naturally detested and rejected, we are Rebels, we are strong, we are stoopid, so if you put up a 'No parking' sign for bikes, we'll park our steel horses right underneath it, just to show The Man that we don't care, we do whatever we want, whenever we want, and yeah, you can cut our locks and take our bikes to the city depot, and yeah, we'll cry like babies because we think our bike has been stolen, but that's just how we roll, lol :D







Monday 02/04/2012




Bike Babe
A Dutch girl on her bike in Amsterdam. Taken with my HTC Desire using the Camera360 Android app. Dutch girls are not just really fast and good looking on their bikes, they're also very practical about making the most out of their multi-tasking skills, they can smoke a cigarette, eat a healthy snack and make a phonecall, and all this while steering their steel horses through the narrow, crowded streets of the best city in the world. This alone would be reason enough to adore and worship them, but they have so many other qualities safely stashed away in their solid, sexy, happy healthy Farmers-daughter'ish frames that I would need another Interwebs to write them all up :)







Sunday 01/04/2012




AmsterCEO
2 years ago, on April the 1st 2010, 'AmsterSam' the Company was born and incorporated, and I assumed my natural role as the CEO of this awesome organization, that only seems to have one goal, to implement the 'AmsterSam World Domination Plan'. You're either with us, or you will be assimilated :D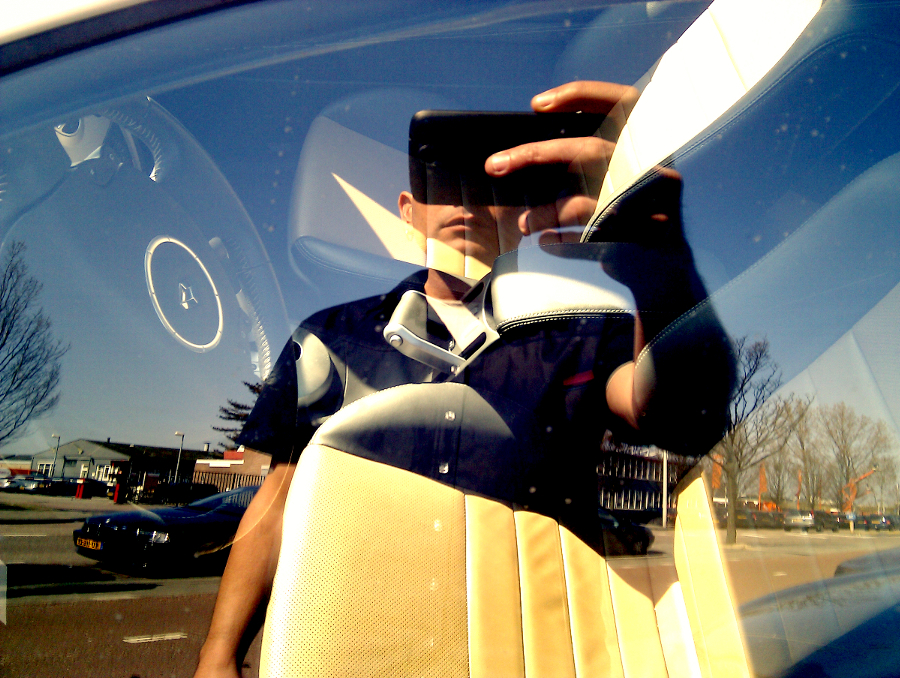 From Holland With Love
The morning sun rising in Amsterdam. Taken with my HTC Desire using the Camera360 Android app. Amsterdam is not just the best, it's also the most beautiful city in the world, there is just nothing as pretty as watching the sun rise over our hometown, creating magical moments filled with unreal light and a wonderful atmosphere that makes everybody and everything feel special and peaceful. I often wish that I could just sit somewhere and fully appreciate the awesomeness of those moments, but they usually occur while I am on my way to work, so all I can do is snap a quick shot like this one, and try to appreciate it in retrospect, in a digital form. Have a relaxed Sunday :)





Last Month