April 2K9

xxxxxxxxxxxxxxxxxxx
Thursday 30/04/2009
xxxxxxxxxxxxxxxxxxx

***Breaking News***
***Attack on the Dutch Royal family***

It seems that not everybody is excited about Queensday, a man in a black car broke through a barrier near the bus with the visiting royal family in Apeldoorn, injuring at least 8 14 23 people, and crashing his car...the royal family was hushed away in their bus, more information here:




Google News
GeenStijl
Telegraaf
NOS TV Live Stream

Here's a movie of the attack...according to the latest news several people died and at least 23 or more are injured...what a horrible turn of events, this was supposed to be the best day of the year :(((



Earlier today, when the world was still a nice place...except for the financial crisis and the Mexican flu and all those things of course, I wrote this...

It's Queensday, yay :D









xxxxxxxxxxxxxxxxxxx
Saturday 25/04/2009
xxxxxxxxxxxxxxxxxxx

I am glad to report that the latest stage of the 'AmsterS@m World Domination Plan' is in full effect and causing an International scandal :D




This is one of my Queensday photos from 2008. The lovely people of the 'I Amsterdam' organization asked if they could use it for their campaign to promote this years 'Queensday' and naturally I agreed since the motto is 'The best Party in the World', which goes very well with my own motto&campaign 'Amsterdam, the best City in the World'!




From the moment their own edited version (since I am too dumb for Photoshop, I clearly did not add those heads of Mr.O and Mr.P :) was released, a media storm gathered and unleashed its furry over the little city that could, forcing the mayor of Amsterdam to outlaw&destroy the offending postcards&posters featuring Mr.O and Mr.P, mhuahahaha ;-D




You've seen the previous stages of my ambitious plan to take over control of the planet in little, innocent seeming steps that, when viewed from Outer Space, combine and add up to puzzle pieces of a grand picture of a total, overwhelming, yet loving&caring state of utter control...you will be assimilated, resistance is futile...and unnecessary, as I just said, I will be the loving&caring kind of absolute ruler&planet dominator, hehehe ;)




For those unlucky few that have missed the previously implemented 'AWDP' steps, here's a short summary:
-AmsterS@m The Videos
-AmsterS@m The Postcards
-AmsterS@m The Shop
-AmsterS@m The Book
-AmsterS@m The Interview 1
-AmsterS@m The Interview 2
-AmsterS@m The Interview 3
-AmsterS@m The Time Out
-AmsterS@m The Sleeveface
-AmsterS@m The (Sch)map
-AmsterS@m The Attitude
-AmsterS@m The Hurrican
-AmsterS@m The Contest

If you don't hear from me anymore in the future, you can probably find me in Gitmo on Cuba or some Siberian Gulag ;-P




When I'm not busy causing an International stir, I still shoot wicked reflections, less puddles, more canals, check it out :)




Still, there's always a tiny patch of puddle somewhere in the best city in the world :))









xxxxxxxxxxxxxxxxx
Monday 13/04/2009
xxxxxxxxxxxxxxxxx

"The Village Idiot"




I'm not sure what made me call this poor man the Village Idiot, usually I'm a nice guy and try to think only the best about other people...I guess it must be this whole subconsciously violent atmosphere surrounding Easter, I mean after all it's about the horrible, slow slaughter of several thugs one holy Man, how are you supposed to enjoy the celebration of the worst traits in human behavior?!




Just kidding, for me it's all about them eggs&chocolate ;-P









xxxxxxxxxxxxxxxxx
Sunday 12/04/2009
xxxxxxxxxxxxxxxxx

Friday was a perfect Spring day and I had a great time hanging out in the Vondelpark with some nice people, wine&smoke :))




Luckily for me, the day then turned into a hellish array of hail/lightning&thunderstorms so I never have any trouble finding puddles for my wicked reflections, hahaha!




And if all fails, there are always cars...




Sometimes I even leave the whole field of reflections far behind me if life offers a chance to take a unique shot, like these 2 birds re-enacting the movie 'Karate Kid' ;-D




To show you that I'm a versatile guy with many inner layers, I proudly present to you my latest movies, 'The Paranoid Pigeon' and 'Wicked Worms'! Hollywood here I come!





If you're done checking out all my new stuff and you're still bored, visit the website of the Santo Daime Church, they might just be your kind of people ;-P




If the last topic did not hurt your feelings enough (maybe you're not the religious type, hmm?!), let me try again...why don't you go and 'Rent-a-Negro'?! Now you surely need a hankie!




Here's something for the friends of barely dressed women, the Playboy magazine has put its Archive online, for free (but not safe for work :)!




Please don't forget to vote for my photo in the 'In Love with Amsterdam' contest, thank you! Here's a short news film about the exhibition!









xxxxxxxxxxxxxxxxxxxx
Wednesday 08/04/2009
xxxxxxxxxxxxxxxxxxxx

This Monday the "AmsterS@m Angels", the lovely Miss Zeee and the lovely Miss M, escorted me to a reception with drinks&snacks at the Hotel Krasnapolsky for the participants of the 'In love with Amsterdam' photo exhibition/contest :)




We had some drinks with the nice folks that showed up and I even met some Flickr legends, the always awesome Akbar and the benevolent Ben, you guys rock, and like I told you, it was like being in one room with King-Kong and Godzilla ;-))




Please don't forget to vote for my photo, thank you! Here's a short news film about the exhibition!




The 'Spring is in the Air Market' at the Westergasfabriek was so much fun, we've met many nice people and some Flickr friends as well, thank you all for the great time :)))









xxxxxxxxxxxxxxxxxxx
Saturday 04/04/2009
xxxxxxxxxxxxxxxxxxx

This Sunday a limited edition of AmsterS@m Reflection Postcards (100 only!) will be available at the Spring is in the Air Market at the Westergasfabriek in Amsterdam, go and get one before they're gone :)




AmsterS@m The Book will be on display as well!




A BIG 'Thank you' to the lovely Miss Zeee for making this happen, you kick ass :D




Have a great weekend and don't forget to vote for my photo in the 'In love with Amsterdam' contest, thank you! Here's a short news film about the exhibition!









xxxxxxxxxxxxxxxxxxx
Thursday 02/04/2009
xxxxxxxxxxxxxxxxxxx

The excellent Quind Blogazine asked me to write an article for them to go with some of my pictures they wanted to feature and yesterday the new Issue with my stuff in it was released, check it out :))




Get on your bike! Peddling amsterdam

Whenever I tell somebody that I am from Amsterdam, I see the eyes getting shiny and wet, a boy's dream come true: city full of Cheese, Sex, Drugs and Rock 'n Roll...and bikes!

I won't waste your time talking about Cheese, Sex, Drugs and R'nR, all has been said and if you want to find out if our reputation is true, come and visit us!

But the bikes! A phenomenon that is not easily explained, because Amsterdam is located in the rainy part of the world and the last thing you'd want, is to sit on a bike when the typical Amsterdam rain/hail-shower hits. But for some obscure reason we do it anyway.

Wrapped up like sausages in capes & rubber pants, mocking the Gods, we carry oversized umbrellas in one hand, juggle our mobile phone in the other, calling our many young, hip and beautiful friends, whilst going through tiny crowded streets, ignoring obstacles and life-threatening situations, and ringing the bell with our third hand. Is it tons of fun?! Yes! Is it worth risking your life?! You betcha!

Are we crazy or stupid?! Probably a healthy mix of both, but once you've experienced the head-rush of squeezing through the tiniest free patch between 2 giant trucks that are stuck at a red light, while you continue to freely roam the mean streets of Amsterdam, not limited by anything but your own muscle-power and goodwill, you'll understand why we risk life and limb to swoosh by like maniacs.

Traditionally the police never bothered with us as we spread our reign of terror all over town. However when Princess Maxima wanted to marry Prince Wilhem-Alexander some years ago, 30 million Guilders (back then) was needed. Quickly, somebody had the fabulous idea to check bikes for working lights and ticket those without (that would be every single one, we're a rebellious bunch!).

Ever since then, biking has seen a downward spiral of early-morning road-blocks and crying children on their bikes, having to give up their allowance. Uglier scenes disgrace this wicked city, the cops having realised that ticketing is an easy and painless way of filling the coffers of city hall.

So what's left to do for a people too scroogy to cough up the 5 Euros it costs to buy a new set of bike lights? Simple, we just bike even faster, out-biking every copper who dares treat us like the retards we so often seem to be!

If you come to Amsterdam, make sure to experience the city by bike. There is no other way to see as much. You will also get to see it from the perspective of the local people. We live on our bikes, we love our bikes and we wouldn't want it any other way.

The true beauty of the best city in the world can only be seen when you guide your metal horse with a pinch of patience and lots of spare time to roam along the canals, through the little backstreets and alleys. It might take some time, but it surely is worth it!

April 2009






Now that we have Google Street View for Amsterdam as well, I would strongly suggest that you are careful where you're hanging out, or you might find yourself on the Interwebs looking like this, LOL!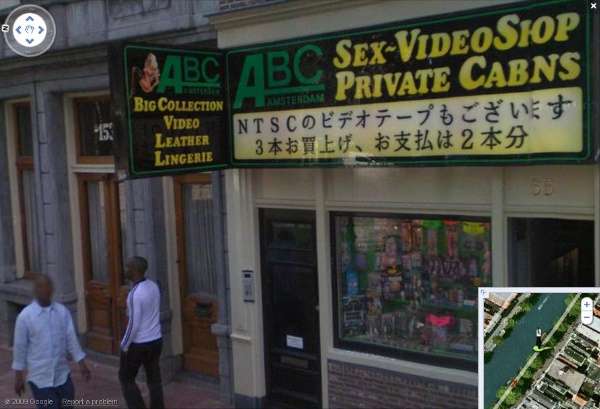 Don't forget to go and vote for my photo in the "In love with Amsterdam" contest, thank you :)









xxxxxxxxxxxxxxxxxxxx
Wednesday 01/04/2009
xxxxxxxxxxxxxxxxxxxx

Watch out today, it's April Fool's Day (and the day that the 'Conficker' worm is going to destroy the Earth!!!) :D




Once you're done being fooled, please go and vote for my photo in the "In love with Amsterdam" contest, thank you very much!






Last Month